Read Time:
9 Minute, 21 Second
DUMBO, short for Down Under the Manhattan Bridge Overpass, is a neighborhood in the New York City borough of Brooklyn. Once a manufacturing district, it has evolved into a hub for artists, innovators, and entrepreneurs.
With its stunning views of the Manhattan skyline, cobblestone streets, and industrial architecture, DUMBO, NYC offers a unique blend of art, culture, and history. In this article, we will explore things to do in Dumbo the fascinating history and vibrant presence of this thriving neighborhood.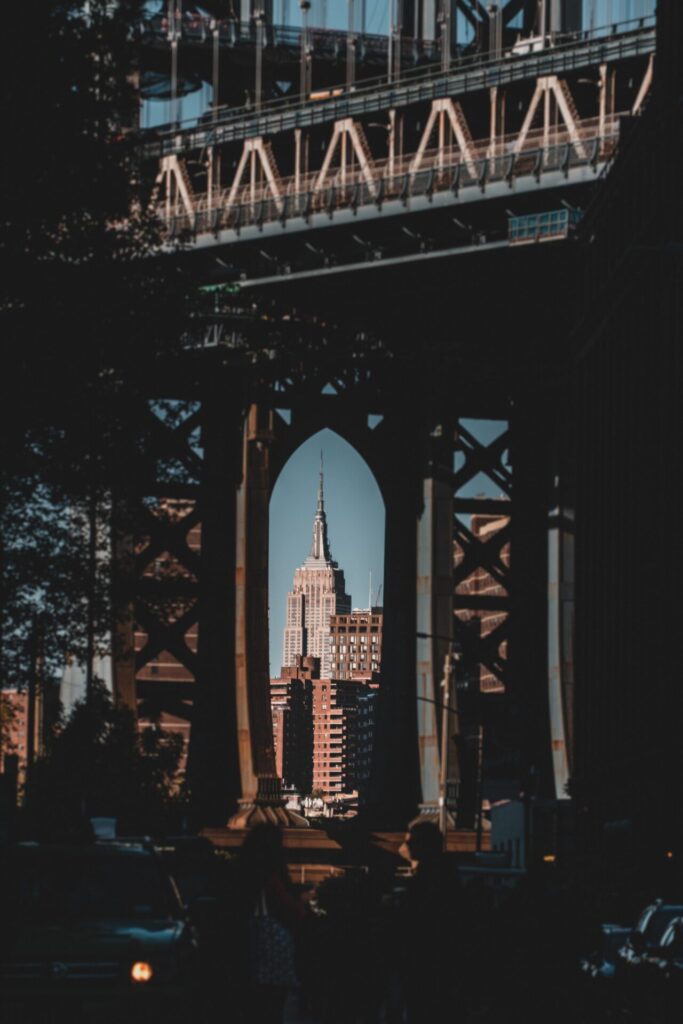 History of DUMBO
Dumbo is located in the Brooklyn borough of New York City. The area has a rich and fascinating history that dates back to the 1800s when it was primarily an industrial district.
Industrial Roots
Dumbo was a bustling industrial hub in the late 19th century, home to numerous factories, warehouses, and dockyards. The area's location on the East River made it an ideal spot for manufacturing and shipping in the city.
The construction of the Manhattan Bridge in 1909 further increased Dumbo's industrial importance, as it provided a direct link to Manhattan.
The neighborhood's industrial importance began to decline in the mid-20th century, as many factories and warehouses moved out of the area. The waterfront became neglected and the area fell into disrepair.
A Renaissance
In the 1970s, artists began to move into the vacant warehouses in Dumbo, attracted by the large spaces and affordable rents.
This led to a revitalization of the area, as the artists began to restore and transform the buildings into living and working spaces. The transformation of Dumbo into an artistic and cultural hub began.
Throughout the 1980s and 1990s, Dumbo, NYC continued to change and evolve. Historic buildings were restored and new development projects were launched.
One of the most significant projects was the creation of Brooklyn Bridge Park, a 1.3-mile waterfront park that has become a major attraction for tourists and locals alike.
DUMBO Today
In the 1970s and 1980s, DUMBO was largely abandoned, and many of its buildings fell into disrepair. However, in the 1990s, artists began moving into the area, attracted by its large, affordable spaces and stunning views of the Manhattan skyline.
Today, DUMBO is a thriving neighborhood, with a mix of artists, tech companies, and small businesses.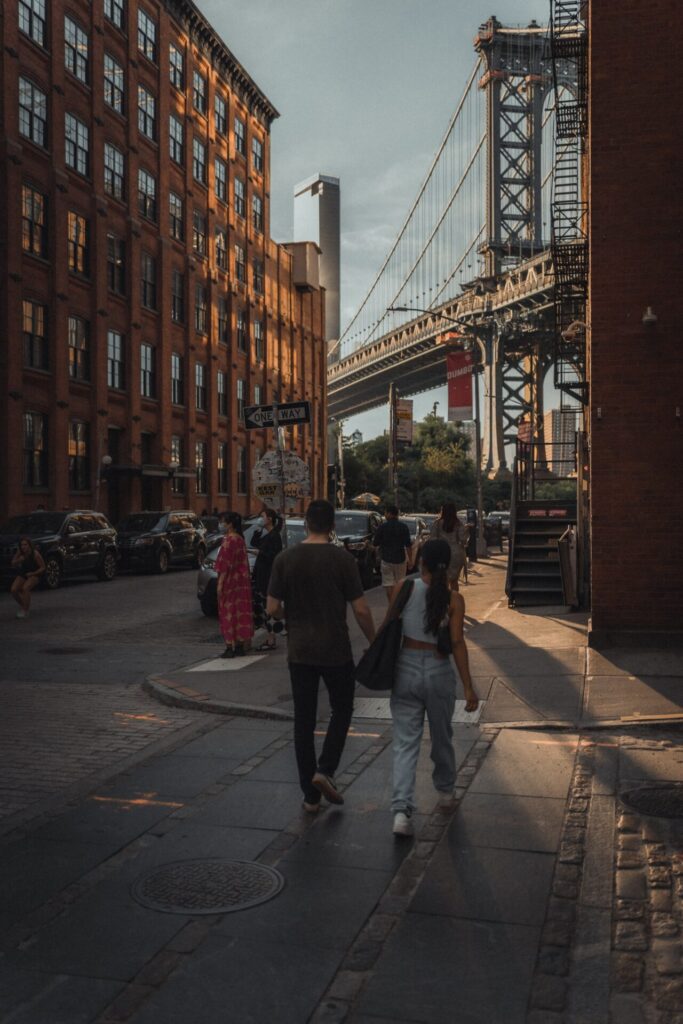 Art and Culture in DUMBO
DUMBO is home to a thriving arts community, with dozens of galleries and artist studios. The neighborhood is also home to the St. Ann's Warehouse, a world-renowned theater that hosts a variety of performances throughout the year.
One of the most popular events in DUMBO is the DUMBO Arts Festival, which takes place every September and features hundreds of artists displaying their work in the streets and galleries of the neighborhood.
To help you navigate through the art world of DUMBO, we have compiled a list of some of the best galleries that you should definitely check out during your visit.
Smack Mellon Gallery
The Smack Mellon Gallery is a contemporary art space that is dedicated to supporting emerging artists. This nonprofit organization provides a platform for artists to showcase their work in a 5,000-square-foot space that is both intimate and expansive. The gallery is housed in a former boiler room, and its exhibitions feature a wide range of mediums, including sculpture, video art, and mixed media.
A.I.R. Gallery
Established in 1972, A.I.R. Gallery is a feminist, artist-run space that has been showcasing the work of women artists for almost five decades. The gallery features works of art in various mediums, including painting, photography, sculpture, and video. A.I.R. Gallery is a great place to discover and support female artists and their diverse perspectives.
Usagi NY
Usagi NY is a contemporary art gallery and cafe located in the heart of DUMBO. The gallery features a diverse selection of artists from around the world, with a focus on Japanese and Asian contemporary art. In addition to the exhibition space, Usagi NY also offers a cafe and retail shop, making it a perfect destination for art lovers and foodies alike.
Masters Projects
Masters Projects is a contemporary art gallery that showcases both established and emerging artists from around the world. The gallery focuses on work that explores the relationship between art, architecture, and design, making it a unique and thought-provoking space. Masters Projects also offers a range of educational programs, including artist talks and workshops, to engage the community in the creative process.
The Front Room Gallery
The Front Room Gallery is a contemporary art space that features both emerging and established artists. The gallery showcases a diverse range of mediums, including painting, sculpture, photography, and video. The Front Room Gallery is committed to fostering a dialogue between artists and their audience, creating a space for the exchange of ideas and perspectives.
Landmarks and Attractions
DUMBO is home to a number of historic landmarks and attractions, including the Brooklyn Bridge Park, a waterfront park that offers stunning views of the Manhattan skyline and the Brooklyn Bridge. The park also features a variety of recreational activities, including kayaking, biking, and volleyball.
Read Also: "Discovering New York's Architectural Wonder: A Guide to Exploring the Iconic Manhattan Bridge"
Brooklyn Bridge Park
Brooklyn Bridge Park is one of the most beloved parks in New York City. Located on the waterfront, this park is the perfect spot for a picnic, a jog, or just a leisurely stroll. The park is known for its stunning views of the Manhattan skyline and the iconic Brooklyn Bridge.
The park covers over 80 acres and includes a variety of attractions and amenities. Visitors can enjoy several playgrounds, a roller skating rink, basketball courts, and a beach volleyball court. The park is also home to several piers that provide access to the East River, where visitors can fish or take a boat tour.
The park also offers several events throughout the year, such as outdoor movie screenings, fitness classes, and live music performances.
But the park is more than just a recreational space. It also plays an essential role in protecting the environment. The park features several sustainable design elements, such as green roofs, permeable pavement, and rain gardens, which help manage stormwater runoff and improve the park's overall ecological health.
Jane's Carousel
If you're visiting DUMBO, NYC your first destination is Jane's Carousel, a stunning piece of art and history located in the heart of Brooklyn Bridge Park.
Originally built in 1922, Jane's Carousel was fully restored and opened to the public in 2011. This beautifully restored carousel features 48 hand-carved horses, all set against a backdrop of stunning views of the Manhattan skyline.
Location:
Famous Instagram Spot
Another must-see spot in DUMBO is the famous Instagram spot, located at the intersection of Washington Street and Water Street.
Here, you'll find one of the most photographed locations in all of New York City, with the Manhattan Bridge perfectly framed between two iconic red-brick buildings.
Visitors come from all over the world to snap a photo at this picturesque location, which has been featured in countless movies, TV shows, and advertisements. So be sure to bring your camera and strike a pose at this unforgettable spot in DUMBO.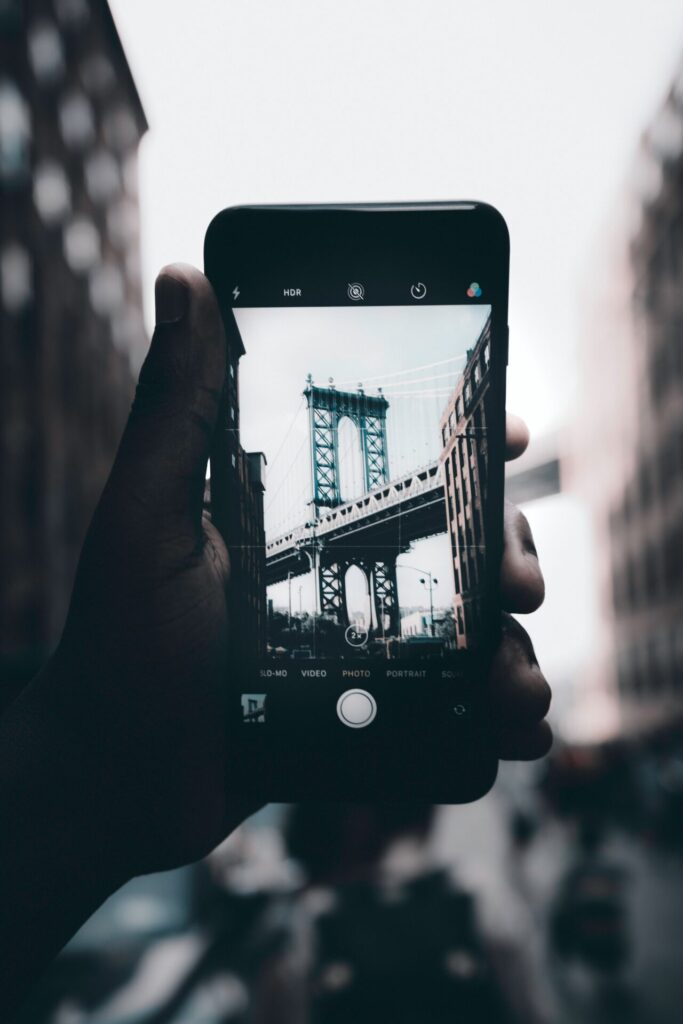 Read Also: "The 10 Best Places To Take Pictures In NYC"
Dining and Nightlife
DUMBO is home to a variety of restaurants and bars, offering everything from fine dining to casual eats.
Gourmet Dining at Celestine
Celestine, located on the waterfront of Dumbo, offers Mediterranean cuisine with an emphasis on fresh, local ingredients. The restaurant boasts a breathtaking view of the Manhattan skyline and a menu that features dishes like octopus with harissa and labneh, and seared scallops with fava beans and bacon.
French Bistro Vibes at AlMar
AlMar, a cozy French bistro on Front Street, offers a selection of classic French dishes like escargot and steak frites. The restaurant's outdoor seating area provides a charming ambiance for a romantic dinner or a casual lunch with friends.
Artisanal Pizza at Juliana's
Juliana's, located under the Brooklyn Bridge, is a family-owned pizzeria that serves some of the best pizzas in the city. Their thin-crust pizza is made using fresh, high-quality ingredients and cooked in a coal-fired oven. The restaurant's decor features vintage photos of the area, creating a charming, old-school atmosphere.
Brunch at Westville
Westville, located on Hudson Avenue, offers a cozy and casual atmosphere, perfect for a weekend brunch with friends. The restaurant's menu features comfort food like avocado toast and pancakes, as well as more healthy options like kale salad and quinoa bowls.
Vegan Fare at Modern Love Brooklyn
Modern Love Brooklyn, located on Water Street, is a vegan restaurant that offers delicious plant-based dishes like mac and cheese and buffalo cauliflower wings. The restaurant's cozy interior and friendly staff create a welcoming environment for vegans and non-vegans alike.
Shopping
DUMBO is home to various shops, including a mix of boutiques, art galleries, and specialty stores. Visitors can check out the Brooklyn Flea, a popular weekend market that features a variety of vintage and handmade goods, or browse the collections at the PowerHouse Arena, an independent bookstore and event space.
DUMBO, Brooklyn – Location
How to Get to DUMBO
DUMBO is easily accessible by subway, with the F train stopping at the York Street station and the A/C trains stopping at the High Street station. Visitors can also take the East River Ferry, which stops at the Brooklyn Bridge Park Pier 1.
DUMBO, New York is a unique neighborhood that offers a blend of art, culture, and history.
From its industrial past to its present as a thriving artistic and entrepreneurial hub, DUMBO has something for everyone. With its cobblestone streets, stunning views, and mix of historic landmarks and modern attractions, it's no wonder that DUMBO has become one of Brooklyn's most popular neighborhoods.
So if you're looking for a unique and exciting destination in New York City, be sure to add DUMBO to your list. You're sure to fall in love with this one-of-a-kind neighborhood.
FAQs
What does DUMBO stand for?
DUMBO stands for Down Under the Manhattan Bridge Overpass.
Is DUMBO safe for visitors?
Yes, DUMBO is generally a safe neighborhood for visitors. However, like any urban area, visitors should exercise caution and be aware of their surroundings.
What is the best time to visit DUMBO?
DUMBO is a great destination year-round, but the best time to visit is during the summer months when the weather is warm and there are plenty of outdoor activities to enjoy.
Are there any hotels in DUMBO?
Yes, there are several hotels in and around DUMBO, including the 1 Hotel Brooklyn Bridge, the ALOFT Brooklyn, and the EVEN Hotel Brooklyn.
What is the easiest way to get to DUMBO from Manhattan?
The easiest way to get to DUMBO from Manhattan is to take the F train from Manhattan to the York Street station in Brooklyn. Alternatively, visitors can take the East River Ferry, which stops at the Brooklyn Bridge Park Pier 1.